Kevin and Rhonda Cowan Ministry
with Austin and Cody Cowan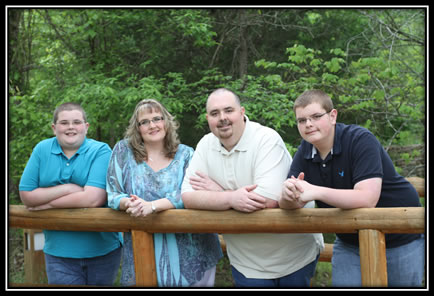 Kevin was raised in church. He knew as a small child he was called to preach and although he loved to sing for Jesus he had absolutely no desire to be a preacher. Due to him running from the call he rebelled against god and he backslid his senior year when he was 17. He lived a very ungodly lifestyle and hit rock bottom in January of 1995. It was at that point he turned back to Jesus. Kevin was saved on January 18th 1995. He met his wife Rhonda at church for the 1st time in April. They started dating in August of 1995 and got married in November of 1995. Kevin started preaching on June 14th 1996. They had their 1st child in January of 1997 (Austin Cowan). Then in January of 1999 they had their second son Cody Cowan. Kevin and Rhonda started pastoring in August of 1999. They pastored churches until 2006.
Kevin and Rhonda since 2006 served as assistant pastors until March 25, 2012. They love to both sing and preach the message of the cross. Kevin and his family are credentialed ministers through the Pentecostal Church of God. Even though they hold license through an organization they will preach and sing anytime the opportunity is given to spread this marvelous message of Jesus Christ. Not only does Kevin and Rhonda, minister through preaching and signing, but Austin loves to preach the Word of God. Cody also loves to sing for Jesus. This is a family ministry each member of this family is Holy Ghost filled. They all love spreading the message of the cross any way they can. If you are interested in having them come to your church please contact Brother Kevin at 870-429-1560 or on Kevin's cell at 870-688-4732.